Donations
Brainy Camps Association wants to thank its many donors who have helped us grow into the organization we are today.  Starting as a small program serving 23 children with epilepsy in 1994, we now provide camps and services to over 500 children with 11 different chronic health conditions every year.  We could not do what we do without your support.
To Donate by Phone: 202-476-3181
To Donate by Mail: Make checks payable to Brainy Camps Association and send to Brainy Camps, Children's National Hospital, 1 Inventa Place, 4th Floor West, Silver Spring, MD 20910
*All donations are tax-deductible 
---
New Ways to Support Brainy Camps
In December 2020, Tripoint Solutions -- a Virginia-based SBA certified 8(a) small business that specializes in Business Information Services and Information Technology Consulting – became Brainy Camps' first Community Sponsor, partnering with us to help ensure the stability of our campsite.  We hope other individuals and corporations who share our vision and mission chose to help us move forward in building our campsite and growing our programs and services.
BRAINY CAMPS SPONSORSHIP LEVELS
Wellness Warrior – $1,000,000
Empowerment Patron – $500,000
Resilience Builder – $250,000
Community Sponsor – $100,000
Courageous Camper – $50,000
Honorable Mention:  Advocacy Donor -- $10,000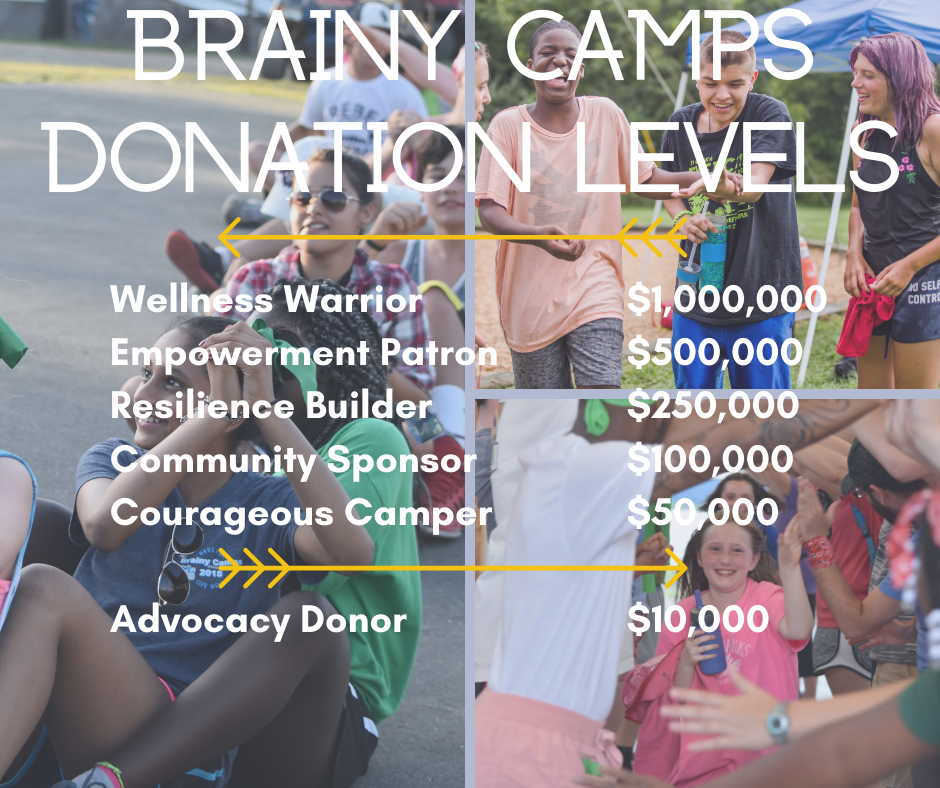 Our next project is to create a Memorial Garden on the grounds of our campsite in St. George, VA to honor the memory of the campers, staff members, and individuals with chronic health conditions lost over the last 26 years. We plan to build a "Pathway of Love" through the Memorial Garden, paved with inscribed bricks and bordered by personally dedicated benches, flower gardens, and trees.  Please help us make our Memorial Garden a reality.
DEDICATION OPTIONS FOR BRAINY CAMPS' "PATHWAY OF LOVE" 
1 inscribed brick -- $250
1 inscribed bronze plaque laid into the brick pathway -- $1000
1 bench/flower garden/tree with a dedication plaque -- $5000