Camp New Friends
A Fun, Supportive Environment for Kids with Neurofibromatosis
For Ages: 7-17
Weekend Getaway: June 26 - 27
5-Day Residential: June 26 - 30
Hybrid (Weekend Getaway & Virtual Camp): June 26 - 27
Virtual Camp: July 12 - 14
Need-based scholarships are available and payment plans can be arranged.

Medical Leader: Dr. Kaleb Yohay, child neurologist and expert in NF at New York University Hospital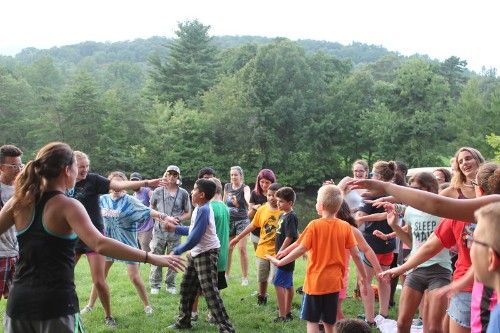 Weekend Getaway - $300/person
2-day in-person camp for campers not fully vaccinated at least two weeks prior to the start of camp; each condition specific camp will take place over a weekend.
5-Day Residential Camp - $850/person; $650 for CITs
5-day in-person camp for campers who have been fully vaccinated at least two weeks prior to camp; each condition specific camp will start on a Saturday and end on the following Wednesday.
Hybrid Camp - $550/person; $450 for CITs
2-day in-person camp and 3-day virtual camp; in-person portion will occur on the weekend and the virtual camp will take place July 12 - 14
Virtual only - $250/person
3-days of virtual camp that will take place July 12 - 14; campers must select their activities one month prior to the start of camp
---
Camp New Friends offers children and teens with neurofibromatosis (ages 7-17) seven days and six nights of summer fun and social connections. Camp New Friends serves to reduce the stigma and isolation that is often associated with neurological disorders and chronic health conditions. The camps also provide parents with respite.
Condition specific camps have proven to be an effective way for children to learn more about their condition and to develop adaptive behaviors. At Brainy Camps, children learn from peers and adult volunteers who live effectively with these same health conditions and are offered hope for the future.
Dr. Kaleb Yohay, child neurologist and expert in NF at New York University Hospital, heads the medical team for the week of camp. Addition medical staff, including nurses, social workers, physical therapist and psychologists, are on-site 24 hours a day. Counselors are trained in dealing with the issues associated with NF. Many counselors and volunteers live with the condition themselves and share their experiences with the campers.
Campers participate and choose from a myriad of activities. Support groups and educational programs promote knowledge, skill development and social connections.  Children and teens gain a better understanding of their condition, strengths and self-worth.
Please contact njosey@childrensnational.org for more information.
---
In the event that we must change 2021 camp to virtual camp, these will be the dates:  July 26 - 29, 2021
Camp New Friends 2020 was funded by 
NF Midwest, NF Northeast, NF Central Plains, JARC Foundation, NF Mid Atlantic, Dino Doozer Foundation, and private donors.