Camp New Friends
A Fun, Supportive Environment for Kids with Neurofibromatosis
For Ages: 7-17
Dates:
7-Day Camp: July 10 - 16, 2022
Teen Week: July 8 - 16, 2022
Need-based scholarships are available and payment plans can be arranged.

Medical Team Leaders: Dr. Roger Packer, Senior Vice President, Center for Neuroscience and Behavioral Medicine at Children's National and Dr. Kaleb Yohay, child neurologist and expert in NF at New York University Hospital.

| | Program | Program Description | Price | |
| --- | --- | --- | --- | --- |
| | Camper | Medically managed, residential camp for children diagnosed with neurofibromatosis, ages 7-18 | $1,150 | |
| | Teen Weekend | The full camp week plus the Teen Weekend Camp. This camp session is for 13–17-year-olds. This program will include a weekend session just for teens. Please pay close attention to the dates, the teen week will occur between camps so that campers who met during our 2021 camp season can reconnect. | $1,500 | |
| | 1-on-1 Assistant | 1-on-1 Assistant must be at least 15 years old and interested in helping with the needs of another camper in order to ensure they have a successful camp experience. | $1,050 | |
| | Teen Weekend (1-on-1) | | $1,400 | |
| | Counselor in Training | CIT is a leadership training program for teens 16 and older who are interested in gaining communication and behavioral management skills and want to work with a bunk of campers under the supervision of experienced counselors; must be accepted into the program | $950 | |
| | Teen Weekend (CIT) | | $1,300 | |
| | Training for Independence | For teens, ages 16 to 19, seeking assistance in becoming more independent, responsible, and self-sufficient. | $1,150 | |
---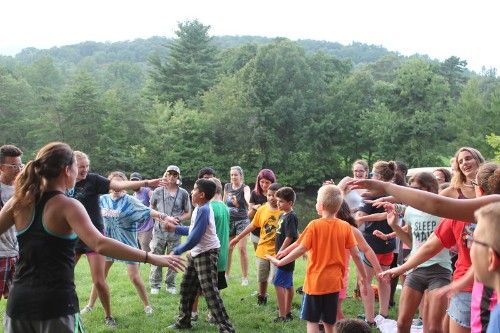 ---
Camp New Friends offers children and teens with neurofibromatosis (ages 7-17) seven days and six nights of summer fun and social connections. Camp New Friends serves to reduce the stigma and isolation that is often associated with neurological disorders and chronic health conditions. The camps also provide parents with respite.
Condition specific camps have proven to be an effective way for children to learn more about their condition and to develop adaptive behaviors. At Brainy Camps, children learn from peers and adult volunteers who live effectively with these same health conditions and are offered hope for the future.
Dr. Kaleb Yohay, child neurologist and expert in NF at New York University Hospital, heads the medical team for the week of camp. Addition medical staff, including nurses, social workers, physical therapist and psychologists, are on-site 24 hours a day. Counselors are trained in dealing with the issues associated with NF. Many counselors and volunteers live with the condition themselves and share their experiences with the campers.
Campers participate and choose from a myriad of activities. Support groups and educational programs promote knowledge, skill development and social connections.  Children and teens gain a better understanding of their condition, strengths and self-worth.
Please contact njosey@childrensnational.org for more information.
---
Camp New Friends 2021 received support from the following organizations; 
JARC, NF Inc. Midwest, Ne-Ne Sponsors Ohana Memorial Scholarship Fund, Neurofibromatisis Inc. Mid-Atlantic, Team Tyler and Lambert Foundation