Camp New Friends
A Fun, Supportive Environment for Kids with Neurofibromatosis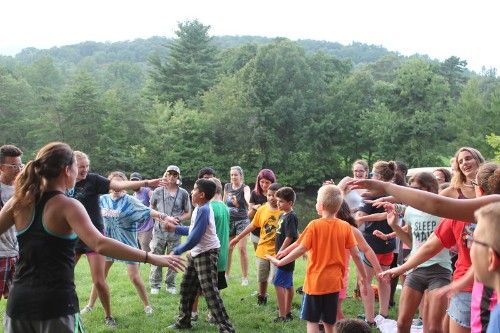 Virtual Camp Daily Schedule
10 am Morning Meet- Up
10:30 am First Activity
12:30 pm Bunk Brunch
2 pm Second Activity
3 pm Cabin/Chat Room; Support Groups
4 pm GO OUTSIDE
7 pm Evening Activity
Each day will begin and end with a Zoom session for all campers. Multiple smaller breakout sessions will be offered throughout the day where campers can choose activities that are of interest to them (i.e., crafts, yoga, scavenger hunt, games, etc.). They also will have the opportunity to participate in support groups led by our clinical psychologist and clinical social worker, as well as educational sessions led by medical experts in the conditions we serve. In addition, the campers will virtually meet together in "bunks" with their assigned counselors and bunkmates to create a feeling of unity and connection.  In the evening, the campers will participate in camp-wide virtual group activities like a "camp fire" sing-along and storytelling, talent show, and dance party. 
---
Camp New Friends offers children and teens with neurofibromatosis (ages 7-17) seven days and six nights of summer fun and social connections. Camp New Friends serves to reduce the stigma and isolation that is often associated with neurological disorders and chronic health conditions. The camps also provide parents with respite.
Condition specific camps have proven to be an effective way for children to learn more about their condition and to develop adaptive behaviors. At Brainy Camps, children learn from peers and adult volunteers who live effectively with these same health conditions and are offered hope for the future.
Dr. Kaleb Yohay, child neurologist and expert in NF at New York University Hospital, heads the medical team for the week of camp. Addition medical staff, including nurses, social workers, physical therapist and psychologists, are on-site 24 hours a day. Counselors are trained in dealing with the issues associated with NF. Many counselors and volunteers live with the condition themselves and share their experiences with the campers.
Campers participate and choose from a myriad of activities. Support groups and educational programs promote knowledge, skill development and social connections.  Children and teens gain a better understanding of their condition, strengths and self-worth.
Please contact njosey@childrensnational.org for more information.
Camp New Friends 2019 was funded by 
NF Midwest, NF Northeast, JARC Foundation, NF Mid Atlantic, The ARC of Montgomery County, donations made to Brainy Camps' Holiday Giving Campaign, NFCA, Dino Doozer Foundation, donation made during Do More 24,  Innovating Worthy Projects, Brittany Roche Foundation, Pat and Nick Chrisley Scholarship Fund, Kaufelt Family Fund,  and private donations.