Camp Next Step
A camp for young adults who need assistance in moving forward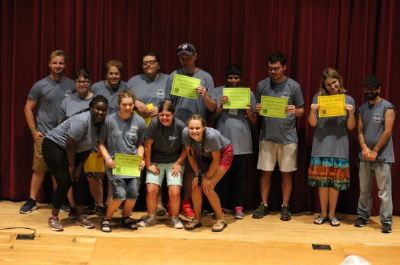 ** Notice 4/23/2021: All participants must be fully vaccinated in order to attend this year's residential camp**
---
Camp Next Step is a 5-day/4-night camp for young adults under 30 in need of assistance in becoming independent and self-sufficient. A Child Neurologist at Children's National, heads the medical team, providing 24/7 coverage of the camp.
For the first day of camp, participants focus on self-management of health care, the performance of daily living activities, acquisition of effective social skills, and determination of future goals.   They incorporate what they learn by assisting individuals with intellectual disabilities in performing the same skills.  With one-on-one supervision by trained counselors, the Next Steppers assist the intellectually limited campers with their healthcare and personal care needs, aid them in their social interactions and help them to determine their immediate goals.   This invaluable hands-on experience is utilized by the young adults to discover their own strengths and interests and determine their next steps in life.
Throughout the camp days, the Next Step group has the opportunity to participate in a myriad of activities with their partners. They learn team-building skills through activities such as sports, skits, and camp Olympics. Group counseling sessions give them the opportunity to discuss their thoughts and feelings and evaluate their own performance. For four days, they are the assistants, helping others to be successful and, thus, creating their own success and feelings of self-worth.
Please contact Brainy Camps at njosey@childrensnational.org for more information.
---
Next Step 2021 received support from the following: 
Lambert Foundation and JARC