COVID-19 and Brainy Camps 2021
Publication Date: January 26, 2021; Last Updated: April 9, 2021
*NOTICE*
In-person camp will be an option for this summer! After meeting with the leadership of Children's National Hospital these are the current options for camp this summer:
Option 1:  Weekend Getaway
2-day in-person camp for campers not fully vaccinated at least two weeks prior to the start of camp; each condition-specific camp will take place over a weekend.  
Option 2:  5-Day Residential Camp
5-day in-person camp for campers who have been fully vaccinated at least two weeks prior to camp; each condition-specific camp will start on a Saturday and end on the following Wednesday.
Option 3:  Hybrid Camp
2-day in-person camp followed by 3-day virtual camp; the in-person portion will occur on the weekend and the virtual camp will take place the following Monday to Wednesday.
OPTION 4:  Virtual only
3-days of virtual camp that will take place Monday to Wednesday; campers must select their activities one month prior to the start of camp
***If you decide not to send their child to camp this summer and you have already paid for the session, you can either: request a refund, leave it as a credit on your account for next year's camp, or donate all or part of the funds to Brainy Camps to help support those who cannot afford the cost of camp.***
---
This page will serve as our way of keeping you informed of the decisions we make concerning Brainy Camps 2021 and the steps we will be taking to ensure the safety of our campers and staff.  We will adhere to the guidelines set by Children's National Hospital (CNH), the Center for Disease Control (CDC), the American Camp Association (ACA), the Association of Camp Nursing (ACN) and the State of Virginia. Necessary adjustments will be made as new data and guidelines are published and we will keep you updated on our plans for testing, screening, etc.  Frequently asked questions also will be found at the bottom of this page.
As of April 6, 2021 there will be both in-person and virtual camps. All camps will take place between the last week of June and the first week of August.  Please note, a minimum of 25 campers must be enrolled in an in-person or virtual session for it to take place. A maximum of 50 campers will be accepted for each in-person camp session; campers will be accepted on a first-come-first-serve basis. All participants must follow all camp protocols including mask-wearing, handwashing, and limiting interactions to cohort groups. Each family must sign the camp Waiver and Release form.
Pre - Camp Requirements:
Encourage healthy behaviors at home. Follow good hand hygiene procedures, coughing/sneezing into elbows, mask-wearing, and self-care behaviors. We highly encourage families to "Live in the Green" for at least two weeks before camp. Below is an infographic of our recommendation for healthy behaviors to be practiced before camp. 
Campers/Families/Counselors must:
Quarantine at home for at least 7-days before camp, the means participating in the low risk behaviors (the green parts of the graph) of the COVID-19 Risk Index below
Complete daily screening, via CampMinder account, during 7-day quarantine that will be reviewed by Brainy Camps Staff. 
Have one (1) COVID-19 test 2-days before camp that is negative. Test results must be uploaded to online profile for review. 
If vaccinated, proof of vaccination must be uploaded to online profile. 
All adults staying on campgrounds must be vaccinated at least 14 days before arriving at camp.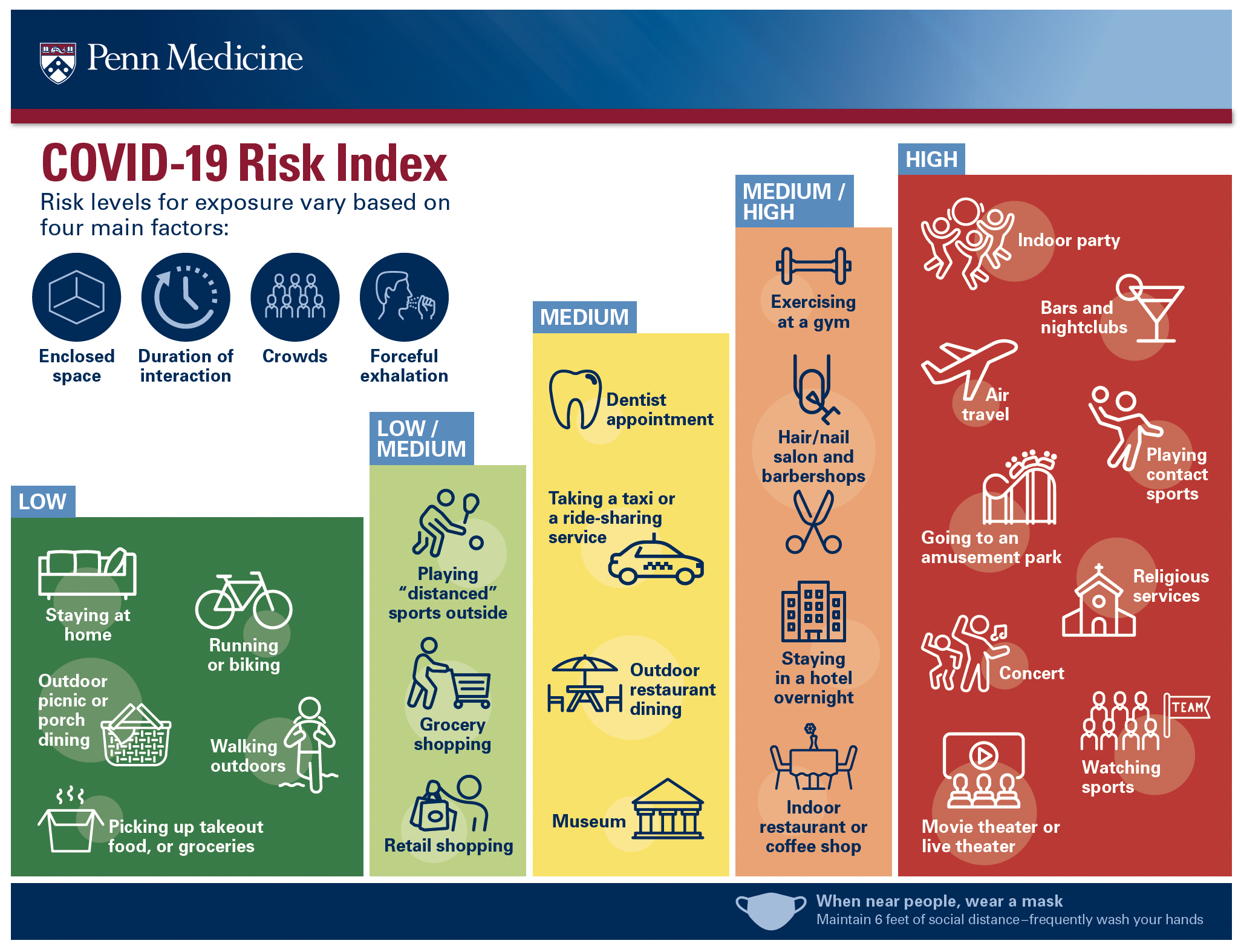 Cabins/Pods: 

 
Our current plans to structure co-horts/pods-
We will reduce the capacity of dorm rooms to 3 people per room, two campers and one counselor. 

There will be a total of 10 -14 people (campers, CITs, and counselors) assigned to one (1) cohort/pod
One pod will be assigned to one hallway in the dorms

Only assigned campers and staff will be allowed in their specific dorm rooms.
Counselors will be equipped with gloves to assist campers in unpacking their belongings in their designated cubby areas.
All cohorts living space will have an ample supply of hand sanitizers, cleaning supplies, and spare masks
Packing suggestions: 

Use a plastic container instead of a suitcase so that the outside may be sanitized. 
Pre-pack outfits into individualized bags. 
Limit your child's belongings to only the essentials. 
Dining:  
We will adhere to the protocols set by the Blue Ridge School who has safely conducted its residential school since the onset of Covid-19. Sage Dining Service will service all food during meals. Meals are to be eaten outside or in designated and socially-distanced areas within the school buildings. Tents will be set up for outside dining for all meals, weather permitting.  
Activities:
Participation in each activity will be limited to a cabin "pod" of both campers and staff. Face masks, social distancing, and frequent hand washing required by all. For those activities that often take place indoors, such as dance and arts and crafts, we will focus on outdoor alternatives. There will be a 15-minute break between activities to provide time for sanitizing all equipment used. Certain equipment will require a 24-hour sanitation procedure and use will be limited to once a day.  

 
Transportation: 
The bus or train ride to and from camp is often where friendship bonds are forged and solidified.  For many, these forms of transportation are the only options available for travel to camp.  In order to meet the COVID safety requirements for Children's National, we are unable to offer transportation for camp this year. We are sorry for the hardship this may cause any of our camp families.
A considerable number of campers fly into Charlottesville to attend camp.  Please exercise caution when planning your child's travel. Several airlines have greatly reduced flights during the pandemic and some have stopped flights to or from certain areas altogether. Be sure to follow the regulations of your chosen airline as you are responsible for your child's travel. 
PPE:  
All staff and campers are required to wear masks at all times. Medical staff will use gowns when dealing with any and all medical issues, including medication delivery and addressing specific medical concerns. The ONLY time masks will not be worn will be when sleeping, eating, swimming, brushing teeth, and taking medication. 

 
Information for Staff Members:
Staff members, you are the ones who make camp possible. We are now accepting applications for counselors for our 2021 season and we have begun interviewing for positions at camp. We need staff for both in-person and virtual camps; so, if you cannot be there in person, you can take part virtually. Please note, we are hoping that, by the start of camp, the COVID 19 vaccine will be available to all childcare workers which, we believe, would allow you access. More details to come!
---
FAQ:
Q:  We live too far from camp for my child to be driven there.  Can my child still attend?
A: We hope so. Presently, each state and each airline has their own set of requirements when it comes to quarantining and testing. Brainy Camps will not be providing transportation to or from camp this summer. Even during a "normal" camp session families plan their vacation time around camp in a way that their child is doped-off at camp and the rest of the family spends some time in Charlottesville, VA.
Q: If my child is registered for camp this summer and it is decided to hold camp virtually can I receive a refund of my deposit?
A: We realize that the interactive virtual experience does not work for everyone. You will have the option to request a full refund for money paid, change any portion of your payment into a donation or let your payment roll over to 2022. 
Q: Since the Weekend Getaway and 5-Day Residential camps start at the same time will they be separated?
Yes, those attending the Weekend Getaway will be placed into a pod of camper also attending the Weekend Getaway. Those attending the 5-Day Residential camps will be placed into pods of children also attending that program.