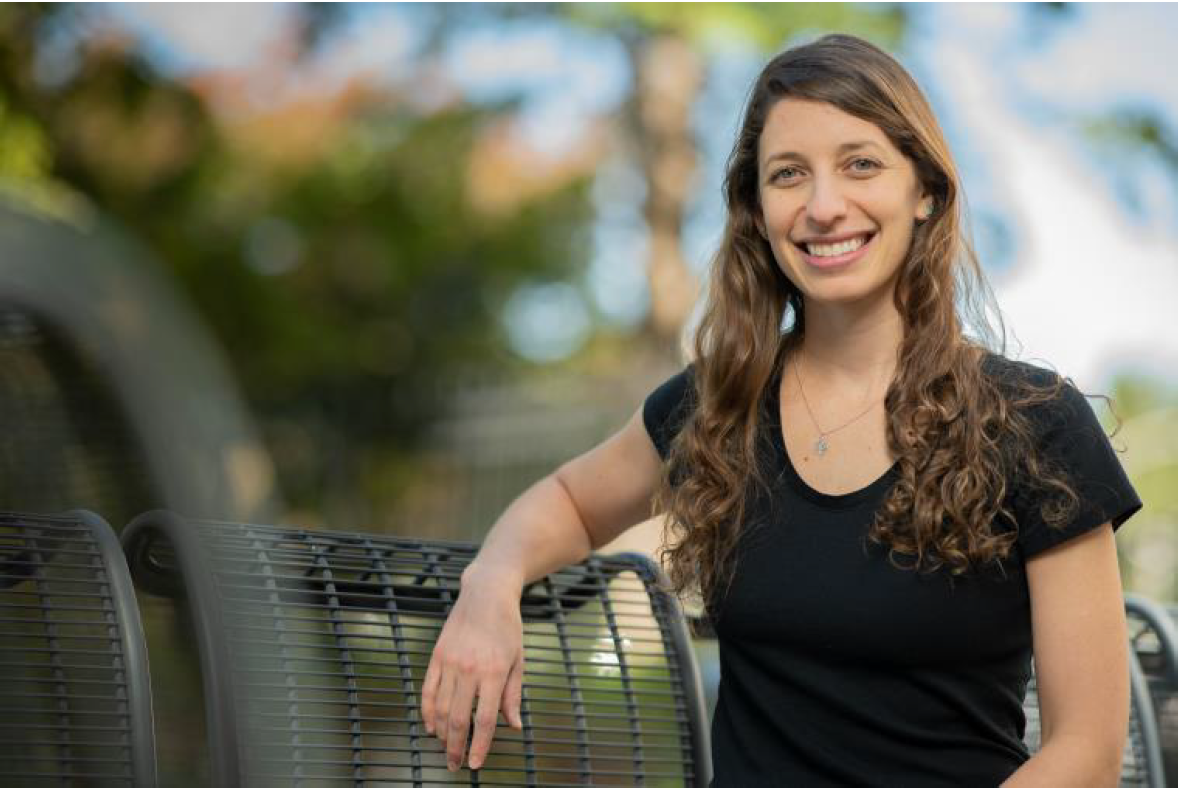 Power of One Award Recipient
Stephanie Inwald Schneider, O.T.D., O.T.R./L.
An occupational therapist providing compassionate care to patients that lasts a lifetime
The chief goal of occupational therapists at Children's National Hospital is to help patients gain increased independence in their everyday lives. Occupational therapists focus on assisting patients to accomplish daily living skills that many of us take for granted such as bathing, walking or even being able to use a fork. For over seven years, Stephanie Inwald Schneider has been putting her commitment and skills as an occupational therapist to task throughout our medical units, from burn clinics to neurology and more.
Stephanie also shows her compassion to her patients by volunteering at Brainy Camps, where Children's National staff provides expert care to campers with chronic illnesses. This past summer, Stephanie supported a patient with severe dystonic cerebral palsy who was attending camp, despite the camper's higher assistance needs. By ensuring that the patients' needs were met, Stephanie enabled this patient to have a fantastic time at camp by empowering the patient to feel safe while developing new skills. Eena Kapoor, P.T., D.P.T., a physical therapist at Children's, says that "because of Stephanie's strong support in ensuring a great experience for this child, the camper created happy memories with her peers with activities like dancing and playing flag football."
Stephanie's days are always different here at Children's National. Sometimes she's in outpatient clinics, other times she's on the inpatient floors. "My sessions can look very different from onepatient to another depending on the age, interests and needs of each child," Stephanie says. "For example, the focus of my therapy when working with infants and younger children is to facilitate motor skills so that they can play and achieve their developmental milestones. If I'm working with older children, I'm focusing on maximizing their independence and enabling them to participate in their activities of daily living." Even within one shift, Stephanie's compassion and care for her patients and their families can make a dramatic difference in their lives and experiences at Children's.
Sometimes, Stephanie will learn how her therapy sessions helped her former patients years after she sees them. "There are a lot of struggles that our patients face while in the hospital, both physically and emotionally. I love that as an occupational therapist, I have the opportunity to show my patients and their families their potential and help them to achieve goals that maybe they didn't even know they could achieve." Recently, Stephanie reconnected with a patient from years ago who was recovering from extensive burns. The patient told Stephanie that a turning point in her recovery was when she was able to button up her own shirt for the first time, which was something she and Stephanie had been practicing during their time together. "This seemingly small moment stood out to her because it gave her the confidence that she would reach her goal of being independent again. I love that I can be part of that process," Stephanie says.
Stephanie grew up in Queens, New York and went to Cornell University for her undergraduate degree. "I discovered the field of occupational therapy towards the end of my undergraduate studies and realized it was a great fit for me." She then earned her clinical doctorate in occupational therapy at University of Illinois at Chicago, got a job at Children's National and has been with us ever since. "I love our kids, their families and my colleagues! I learn something new every day and I appreciate having the opportunity to build relationships with the children and their families and play a role in the recovery process," Stephanie will quickly say when talking about her work.
One of Stephanie's best experiences at Children's is working with Brainy Camps for their week-long camp for children with cerebral palsy called Camp Take Hold. "It is a very empowering week where the campers can learn about their diagnosis, share their experiences with one another and challenge themselves to try new activities. I really enjoy watching these kids thrive outside of the hospital setting and I always return home feeling re-energized by the camp experience."
Eena says that, "Stephanie exemplifies Children's core values with her compassion for our patients and families, as well as her commitment to providing excellent care, whether when on site at the hospital or away at Brainy Camps. Thanks to employees like Stephanie that volunteer their time, Brainy Camps has been running strong for all these years. She works tirelessly from morning until the campers are tucked into bed at night to ensure that they have a fun, safe and enriching week away at camp."
Stephanie says that we offer a unique setting and she loves the busy and energetic environment in which you can learn something new every day. Her work has improved the lives of countless patients and families in inpatient units, outpatient centers and at Brainy Camps by empowering children to live to their fullest potential. It is for Stephanie's enduring commitment to our patients that she is a Power of One Award winner.
Congratulations, Stephanie! Your connection, compassion and commitment to our patients and families has earned you a Power of One Award! Thank you for all you do!